Oven roasted garlic is a quick, rich, and delicious addition to any meal, from garlic bread, to pizza! Fresh garlic is roasted with olive oil and thyme to create a delicious spread for just about anything. 
With how simple it is, making roasted garlic in the oven makes such a difference in the garlic flavor you get in your cooking. Roasting garlic creates a rich, sweet flavor in the garlic, while removing the harsh bite you'll find in raw garlic.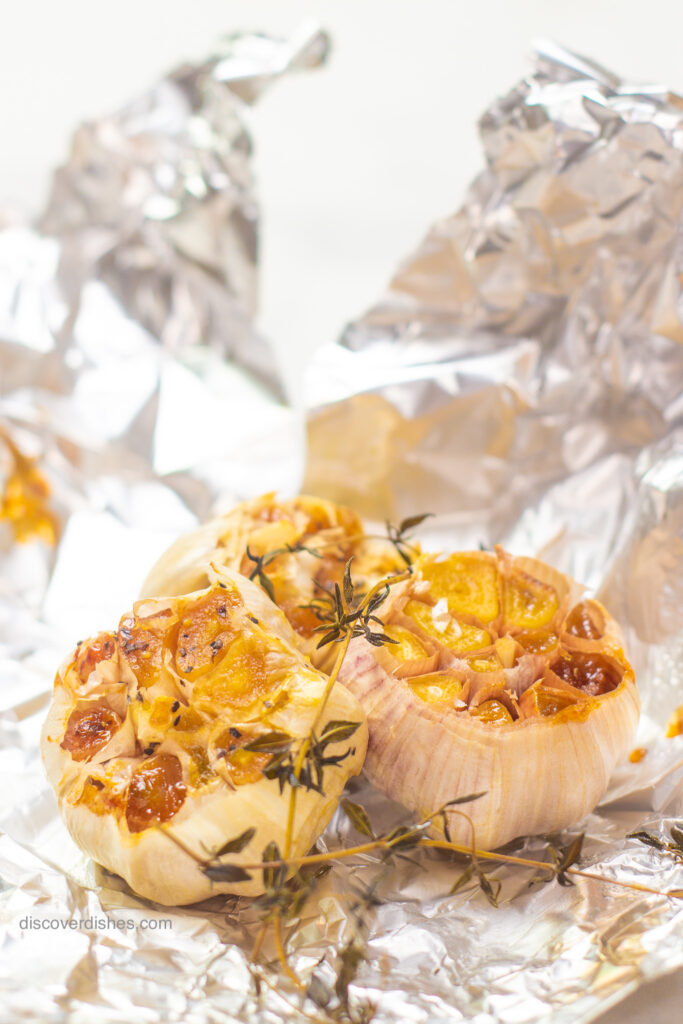 How To Roast Garlic
Roasted garlic is super easy! To make oven roasted garlic:
Chop: chop 1/4″ off of the top of the garlic to expose all of the cloves inside, keeping the outer skin intact. Remove any excess layers of skin.
Drizzle: drizzle the garlic with olive oil and add a sprig of thyme. Wrap tightly with aluminum foil.
Roast: roast the garlic for 40-45 minutes or until cloves are browned and tender.
Mash: allow to cool, then press garlic cloves out of the skin into a bowl. Mash with a fork to use for other recipes.
How Long To Roast Garlic
Roasted garlic is forgiving with the oven temperature, and can very when you roast it. 4o-50 minutes is standard.
If you have other dishes in the oven at a lower temperature, the cooking time will be closer to 6o minutes.
The garlic should look caramel colored, and be super fork tender.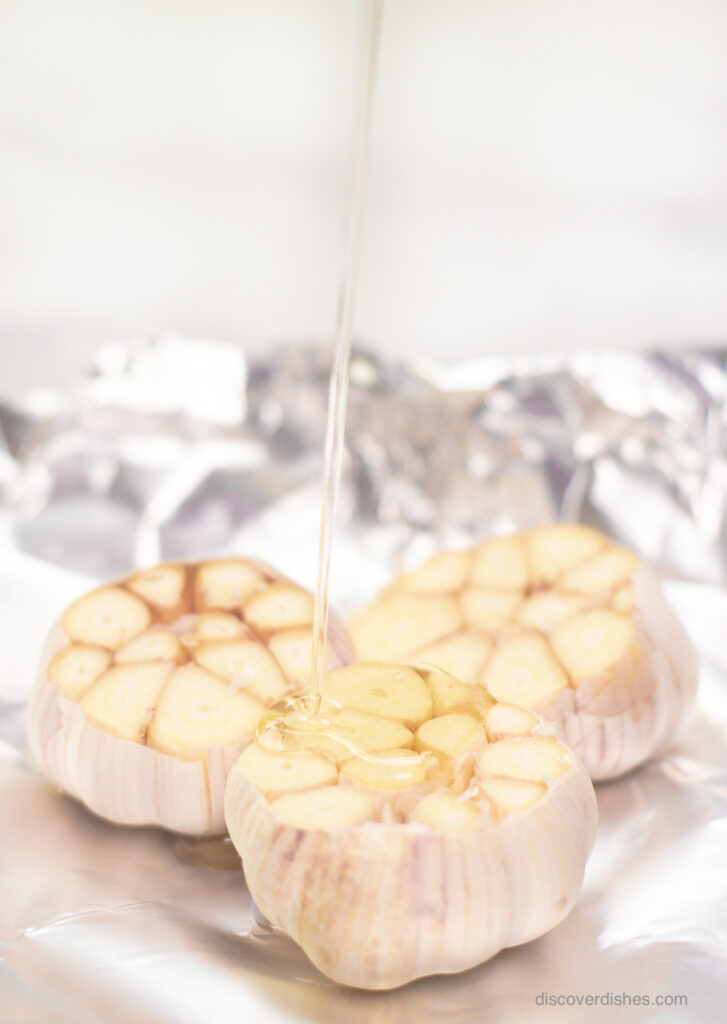 How To Roast Peeled Garlic
To roast peeled garlic:
Place garlic in the middle of a piece of aluminum foil.
Drizzle with olive oil, and add thyme.
Wrap up the foil, and roast for 45-50 minutes or until tender.
How To Store Roasted Garlic
Roasted garlic can be stored in an air tight container for up to 3 days. The garlic is fragrant, so ensure there are no air leaks to avoid having the garlic leech into the other items in the refrigerator.
For long term storage try freezing the garlic for later!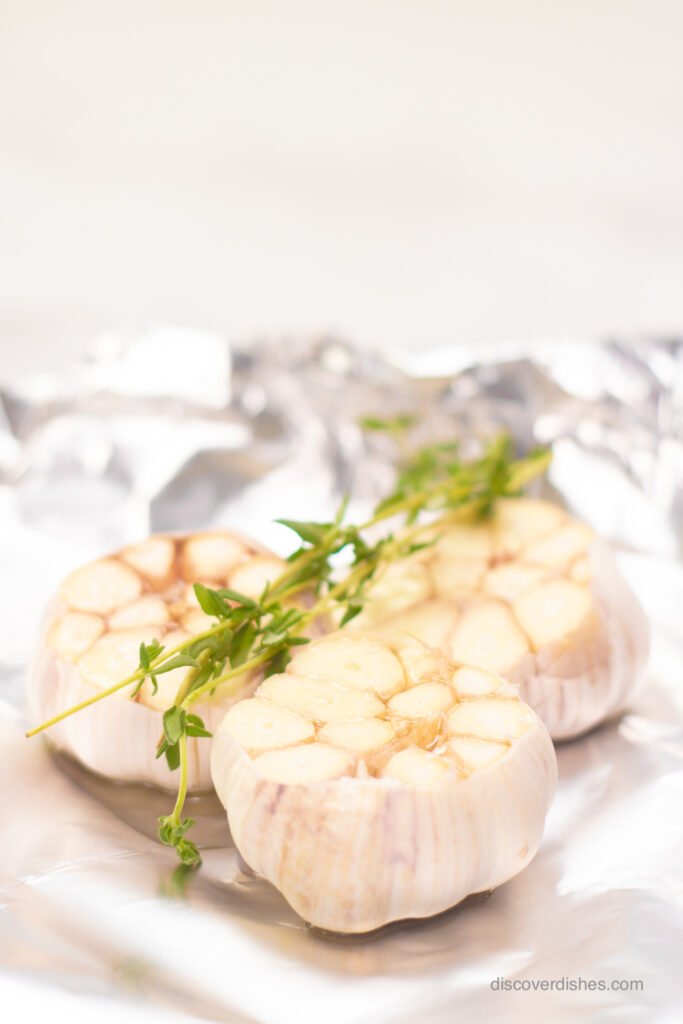 Can You Freeze Roasted Garlic
Yes! I keep roasted garlic in my freezer at ALL times. Roasted garlic can be frozen for up to 1 year.
My favorite method of freezing roasted garlic is adding tablespoons of it to an ice cube tray, then popping them into a freezer bag once completely frozen.
The roasted garlic cubes can be tossed in the pan with veggies, stir fries, sauces, and soups for an extra pop of flavor.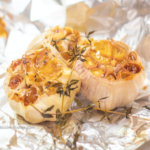 Rate Recipe
Oven Roasted Garlic
This easy roasted garlic is perfectly roasted, smooth, and a flavorful addition to pasta, on bread, or on pizza!
Pin Recipe
Print Recipe
I would love it if you followed me on Pinterest
Follow @discoverdishes for new recipes
Ingredients
3

bulbs

garlic

2

tablespoons

olive oil

1

sprig

thyme

fresh

salt and pepper

to taste
Instructions
Trim the top 1/4 inch off of garlic bulbs to expose the cloves, and pull off some of the outer skin.

Place the garlic on a sheet of aluminum foil. Drizzle each garlic clove with a little olive oil, and add salt and pepper to taste.

Place a sprig of thyme on garlic, then wrap the foil tightly around the bulbs.

Roast for 40 minutes or until cloves are browned and soft.
To serve:
Allow garlic to cool so you don't burn yourself. Discard thyme sprig.

Press on the outside of garlic to push cloves out of the skin and into a bowl. If you get any skin in the roasted garlic, just pick it out.

Mash garlic cloves into a smooth paste with a fork.
Nutrition
Calories:
42
kcal
|
Carbohydrates:
1
g
|
Protein:
1
g
|
Fat:
5
g
|
Saturated Fat:
1
g
|
Sodium:
1
mg
|
Sugar:
1
g
|
Vitamin C:
1
mg
Pin it for later: